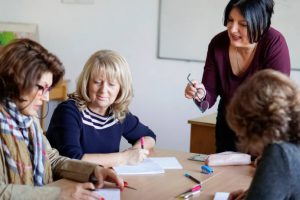 English language training at ENGLISH HOUSE for employees in groups or individually is organized in the most convenient and useful way for both learners and their employers.
Corporate English training contributes to your employees' performance since it helps them feel more confident and relaxed while completing their tasks. Whether you choose General, Business or another specialized English for their language course, their improvement and professionalism at work will not go unnoticed.
All tests and additional materials needed during the training are free. After passing their final exam and provided they've met our attendance requirements, learners receive a certificate for the corresponding level of English based on the Common European Framework of Reference for Languages (CEFR). If desired, ENGLISH HOUSE will keep you updated on your employees' progress (results, attendance and so on).
The duration of each course as well as its intensity can vary based on our clients' needs. We discuss all the main characteristics in advance, such as course length and course books.